Gns3 Cloud
Hello and welcome back to the GNS3 section. I take it you've just come from the how to install network devices article and you're ready to learn more! In this article, we will be taking a look at how to add your real computer to GNS3.
It is possible with Microsoft Loopback or Npcap Loopback as Cloud's interface. It seems, Winpcap must be installed. It doesn't work with Npcap. 64-bit win10, win8.1, win7; c7200-adventerprisek9-mz.152-4.M11.bin; tftpd64.464; WinPcap413; npcap-0.9987 or npcap-0.9988; However, Ethernet interface of host PC as Cloud's interface. It's also much simpler to use than the preexisting Cloud node. The NAT node requires either the GNS3 VM, or a Linux computer with libvirt installed. Libvirt is necessary, to create a virbr0 interface for this node to function. By default, the NAT node runs a DHCP server with a. GNS3 hosted service is a month to month subscription service. At CloudMyLab, we understand your hardships and also we do not want you to spend your precious time setting up services to use labs. That is why we have extended our latest offerings in Infrastructure as a Service (IAAS). To create a new GNS3 topology, select a group of devices in the Devices Toolbar by clicking the Browse Routers button The routers available will depend on your GNS3 configuration. In this example both a local router and GNS3 VM router are available. Drag and drop a local router to the GNS3 Workspace.
Gns3 Cloud Config
Why would we want to do that? Well… it allows us to use our computer's full processing power in order to make managing certain devices easier. Most of the setups are done initially via CLI, however, some devices have had a lot of quality of life features added on their GUI like firewalls that make managing them over GUI a lot faster.
This means your actual computer will be able to communicate with the network devices in real-time as if you were physically connected to them with a cable, isn't that amazing?
How do we add our real computer to GNS3?
Gns3 Cloud Connect To Internet
Firstly I want you to go back into GNS3, we can quickly use the same project that we used when we imported a Cisco in the previous lecture, however you can start from scratch and import any device really.
Now kindly go back into GNS3, click on Edit at the top of the toolbar and select preferences, or alternatively press "Ctrl + Shift + P"
Now please navigate to VMware and select it and then click on the Advanced Local Settings.
You should see the Managed VMnet interfaces, what are these? Well, VMware which we installed earlier allows us to also create what we call Virtual Network adapters. Or simply a virtual NIC. That is running on our actual computer. You can leave the options inside as is as this will add two new Virtual NICs to your computer called vmnet2 and vmnet3. All that you need to do is press on Configure. If you ever find yourself wanting or needing more NICs then you can add them from here, however, a single NIC should be more than enough for labbing purposes.
Now I want you to go into your Network connections after GNS3 is done with creating the virtual NICs. You will notice that there are more interfaces now. I generally pick VMnet 2 to use and rename this connection just to VMnet2.
I also tend to give this NIC an IP address in a management range that I configure on all devices with the initial setup. This is generally a private IP in the 192.168.99.x/24 range, however, you can make this IP anything that you want to, just as long as it's at least a /30 in size in order to plug into other pieces of equipment.
Now that we have a virtual NIC with an IP address configured we can go back into GNS3 and bring our machine into the topology. Go into the End-Devices node and drag and drop the "Cloud" into the topology.
Next, I would like you to right click on the Cloud and click on the configure button as we will need to specify which NIC we want to be active in GNS3.
We will now select the NIC that will be able to communicate with the virtual topology. Firstly clear out all the interfaces out of the cloud by selecting them all and clicking on Delete.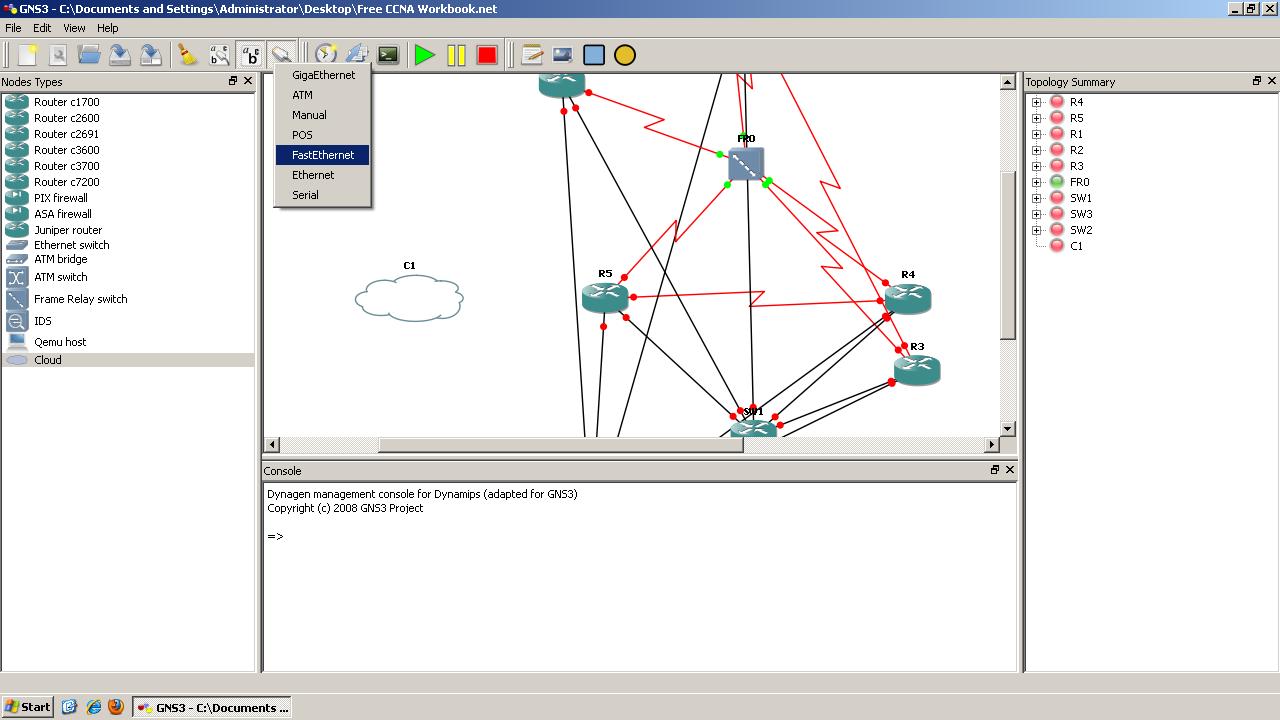 Once all the interfaces have been cleared out of list please tick the Show special Ethernet interfaces.
With the option ticked to Show special Ethernet interfaces click on the dropdown window and select the VMnet interface where you have assigned your IP address. I will use VMnet 2 as that is the interface I configured my static IP
NB: Please ensure you also click on Add to actually add the interface into the window. If you do not add it you will not be able to use the interface.
As we have added the VMnet interface we can simply hit Apply and OK then we are done! We are ready to connect our personal computer to the devices in the network landscape. Please use the connector node and connect your VMnet interface to your Cisco router on Gi0/0
If you have started your devices you should see the endpoints of both sides of the cables are green and that network communication can now take place. I have already assigned a management IP address to the interface of the Cisco router as 192.168.99.1/24, so the device is already reachable and can be managed from my own computer!
That's a wrap
We've covered how to add your real computer to GNS3. If you added any other device and gave it a management IP address you would be able to just move the cable from your computer on the topology to the other machine and you would be able to access the device over its management ports from your computer.
This will come in handy when we start configuring things like FortiGate and Checkpoint firewalls where working over a GUI can ease certain configuration aspects. I hope that this has been informative for you and that you have learned something new!
So, in connecting my virtual gns3 network to my local, physical lan, I found the connection speeds to be abysmal. Host to host speeds within the virtual network were good but communicating from a virtual host to a physical host had speeds around 10kbps.
Some poking around on Google revealed that this is a common problem. I was able to solve this by following the advice in this article.
My use case is quite simplified from the article in that I do not need tap interfaces, and on Ubuntu 18.04, netplan does not support tap interfaces anyway. If you need a more exotic configuration (bonded interfaces with VLANs, and tap-like interfaces), I found this information to be quite useful.
Here is my netplan configuration file:
Now, when I drop a cloud object into my gns3 project, instead of linking to the physical interface enp14s0, I connect to the bridging interface br0.
Now my throughput to my physical LAN is in the megabit range with none of the connectivity issues that I saw before.